a play by Colin Sargent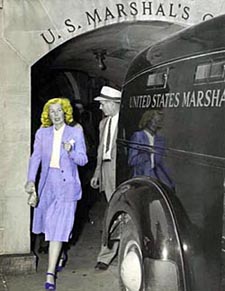 Axis Sally, A.K.A. Mildred Sisk and Mildred Gillars, was born in Portland, Maine. She grew up on Park Street. After spending 12 years in the Federal Women's Reformatory in Alderson, West Virginia, for treason, she dropped out of sight.
Praise for 100 Percent American Girl:
"100% American Girl is a riveting story."
"Engaging script and a hard-working and talented cast."
"Very well and creatively written."
"Fascinating and hilarious characters."
-Katherine Joyce, Portland Phoenix
"Full of wit and pathos."
"Tightly written."
"Gillars (as played by Marketa Edwards) is articulate, urbane, and
extremely prickly"
-Jason Wilkins, Portland Press Herald
See the script


100 Percent American Girl, written by Colin Sargent and directed by Harlan Baker, was performed to an overflowing tent at the Maine Festival and before a sold out crowd at ACTS on August 2 and 3.
Both shows starred Marketa Edwards, Steve Collins, Denver Whisman, Charity Thackston, Maggie Gish, Paul Haley, Laura Ketchum, Muriel Kenderdine, George Agayoff, and Herb Adams.

Pictures of the performance at the Maine Festival
One Hundred Percent American Girl was a winner at the 2002 Maine Playwrights' Festival, and the April 19th reading from the festival was played on Portland Public Access television, channel 4, throughout May 2002.